Screenguard screens for most window and door situations without obstructing the view whilst keeping you secure. Manufactured with 316 Marine Grade Stainless Steel and mechanically fastening in a solid heavy duty aluminium frame.
Our Screenguard sliding security doors are corrosion resistant, sleek, Australian-manufactured, easy to operate, bushfire tested, and made with marine grade stainless steel mesh.
With our Screenguard range, eliminate the need for mid-rails, leaving a taut and secure mesh that is aesthetically pleasing and guaranteed to be secure. Get high quality privacy and protection at an affordable price.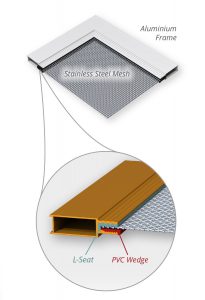 These Screenguard screens are made from 316 Marine Grade mesh that allows fresh air into your home while ensuring that the protection of your family is the top priority. As we live in the coastal parts of Australia, we understand how important it is to make sure that our metal is corrosion and weather resistant. Screenguard screens are made from top tier stainless steel mesh that is superior to other grades of steel, such as grade 304.
We offer high quality Screenguard doors and windows, with easy operation and comprehensive security. With our Screenguard range, eliminate the need for mid-rails on most of the larger doors. All doors and windows have been tested in accordance with Australian standards AS5039. We offer a range of lock options, including triple locks.
ScreenGuard's patented 3 point internal rib design provides additional resistance against mesh removal by an intruder, with options for a privacy snib lock or key deadlock to secure your space.