Our high quality Austalian Quantum Rollerblinds are made for the Australian Climate. Available in an extensive range of plain fabrics and printed/textured fabrics.
Built to withstand the strong Australian sun, these are durable and operate with ease.
Our Rollerblinds are a modern and timeless choice for very low maintenance window and door furnishings.
With an easy to use chain control, they can also be motorised  with rechargeable batteries, remote control and home automation options.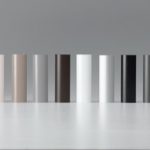 We have an excellent range of fabrics from the latest designer colours to high quality designer styles.
All our componentry is polycarbonate UV treated for the harsh and difficult-to-resist Australian heat. Our compontry has an extensive range of colours and finishes.
We also offer high quality Dual Roller Blind options.
Shaw – Aventus Collection
Introducing the new "Aventus Collection" by  Shaw Performance Fabrics. Transform any room in the home or office with this exquisite range, offering 17 modern colours in 3%, 5%, and 10% screen fabrics. These exciting new fabrics offer a 2×2 basket-weave with enhanced view. This range is a wonderful addition to our suite of products.