A WIDE VARIETY OF COLOURS TO CUSTOMISE YOUR VERTICAL STRIPE CARIBBEAN AWNING, MADE TO DEFLECT THE AUSTRALIAN HEAT AND PROVIDE WEATHER PROOFING.
The Vertical Stripe Caribbean awning is an attractive narrow or wide vertical panel construction with a smooth top finish, a scalloped edge, and optional closed sides. These awnings are available with a fixing angle from 5° up to 45° in seven colour choices.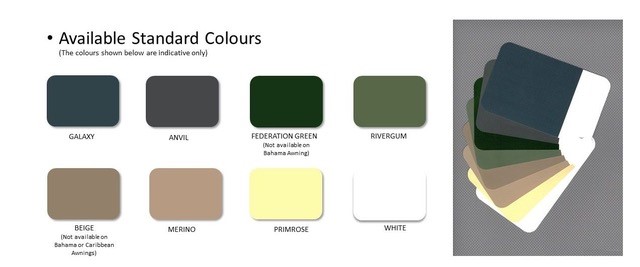 Our Vertical Stripe awnings can be manufactured on an angle range from 5 degrees to 45 degrees from the horizontal base. The ends of the awning can also vary, incorporating flare ends, panel ends, and closed ends. One option is to get mitred corners around the corners and edges of your home. Stays or posts are used to support the awning's weight; the choice between these two options depends greatly upon the size of the awning and your home.
Our Vertical Stripe Caribbean awnings are excellent for heat deflection and weather proofing, are low maintenance, and also highly durable.